LoL Arena
Leading LoL Arena Boost Service






What counts as a win
What happens if the booster loses a game?
Nos caractéristiques
Pourquoi choisir BoostRoyal ?
Apparaître hors ligne
Aucun de vos amis ne verra le booster jouer sur votre compte.
Cryptage VPN
Votre compte reste en sécurité grâce à notre système VPN avancé.
Suivi des commandes
Suivez votre commande efficacement et sans effort grâce à l'espace client.
Options supplémentaires gratuites
Les rôles et les champions personnalisés, le VPN et le mode hors ligne font partie de l'équipement standard.
Récompenses de fidélité
Bénéficiez de réductions importantes, de remises en espèces sur toutes les commandes et de comptes LoL gratuits.
Assistance en ligne 24/7
Faites confiance à notre équipe d'assistance professionnelle 24 heures sur 24, 7 jours sur 7.
Un processus de classement sans effort.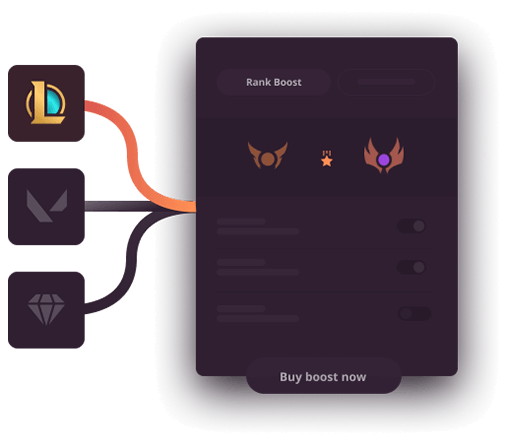 Sélectionnez votre service préféré
Tout d'abord, choisissez votre jeu et votre méthode de classement. Il existe plusieurs façons d'atteindre l'objectif que vous vous êtes fixé. Choisissez celle qui correspond le mieux à vos besoins.
Vous pouvez toujours nous contacter par chat en direct si vous avez besoin d'aide.
Personnalisations supplémentaires gratuites.
Processus d'achat intuitif et simple.
Commencer
1- Sélectionner un service
Sélectionnez et personnalisez le service que vous souhaitez.
2- Paiement complet
Choisissez votre mode de paiement préféré.
3- Rang
Suivez votre commande et discutez en direct avec votre booster.
Read more about BoostRoyal
Experience the Ultimate Arena Boosting Service
Since the inception of online gaming, we've been at the forefront, and our Arena Boosting service is no exception. With over a decade of experience, our team of seasoned players is ready to provide you with an unparalleled Soul Fighter Boosting service. We were among the pioneers to offer rank boosts, and our expertise in the field is unmatched. When you order a Soul Fighter Boost from us, you're assured of top-notch service from some of the most experienced players globally. We meticulously ensure that every order is flawless, allowing you to reap the benefits of our hard work. We also offer a 100% satisfaction guarantee, meaning if you're not satisfied with your boost, we'll make it right.
Your Security is Our Topmost Concern
We prioritize your security above all else. We employ state-of-the-art technology and security protocols to ensure that your account remains secure. We also have a stringent confidentiality policy, ensuring that your boost remains private. If you're seeking the best Soul Fighter Boost experience, look no further. Order your boost now, and let us handle the rest.
Customized Arena Boosting
We understand that everyone has unique boosting needs, and that's why we offer a range of options. Whether you want a solo or duo boost, we've got you covered. You can also select the server, specific role, and even the champions you want us to play.
Solo Boosting
Looking to boost your rank without lifting a finger? This option is perfect for you! Our professional Arena boosters will log into your account and play until they reach your desired rank.
Duo Boosting
This option is ideal for those who want a rank boost but don't want to surrender their account information or want to play some games themselves. With duo boosting, you'll be paired with one of our professional Soul Fighter boosters and play together until you reach your desired rank.
World-Class Soul Fighter Boosting Support
We pride ourselves on our customer service since day one. We understand that when you order a boost, you want it done swiftly and efficiently. Our team of support agents is available 24/7 to assist you with anything you need. Whether you have a question about your order or want to discuss your options, we're here for you.
Affordable and Efficient
We understand that not everyone can afford to spend a lot on rank boosting. We offer various payment options and ensure frequent sales and discounts. We aim to make our service accessible to as many people as possible, ensuring you're getting the best potential value for your money. Plus, we offer a 100% satisfaction guarantee, so you can be confident that you're getting the best possible service at the best possible price.
We understand that you want to see results as quickly as possible, so we offer some of the fastest boosting services in the industry. Our team of professionals can get the job done quickly and efficiently, so you can start enjoying your new rank in no time.
Arena Event
The Soul Fighter event is a six-week event taking over the world of Runeterra with new game modes, skins, champions, and more coming to League of Legends. The event begins globally on Thursday, July 20, and runs through Monday, August 28.
New Game Mode: Arena
In the new Arena game mode, four teams of two players each fight one another in rotating combat rounds. After each round of combat, they will power up with unique Augments until only one team is left standing. Combat takes place on four different battlefields which vary in size, terrain density, and theme. Champions from the Soul Fighter universe will make occasional cameo appearances in matches.
Tournament of Souls
Tournament of Souls is a style-rating-focused combo-battler that takes place in the client. As Samira, you will gain Reputation by playing games of League, which in turn allows you to face new opponents and unlock new abilities for Samira to progress further in the tournament. The objective of the tournament is to become the champion by defeating all ten opponents. You can claim rewards after each victory and take on new challenges after unlocking the Story and Expert difficulty levels.
Soul Fighter Boosting Service
Our Arena Boosting Service is designed to help you excel in these new game modes and events. With our service, you can focus on enjoying the game while we take care of the hard work. Whether you're looking to dominate in the Arena game mode or make your mark in the Tournament of Souls, our experienced boosters are here to help. Order your boost now and let us take your Soul Fighter experience to the next level.